New Club Committee
At the Club AGM on 18 September, there were some changes to the Officers and Committee of the Club. Martin Purvin and Ray Collins are now joint secretaries, and Anne Robinson has taken over as Treasurer. For a list of current committee members, visit the Information for members page.

Mags Whiting
(From Margaret Peters)
Mags Whiting, who passed away peacefully in May this year, was a great friend of Whitby Festival. She attended the festival in the 1980's and 90's and ran the children's activities for many years during this time. With husband Ken and many willing helpers, myself included, we were known as 'Mags and Co'. Happy days indeed. Mags and Ken also ran the Ring o' Bells folk club in Middleton, Manchester. She was a great singer and loved to sing and hear others. For a brief period we enjoyed singing in a trio called 'Silk Purse' along with Ros Anderson. In the 1990's Mags and Ken drove to Belarus repeatedly in an ambulance filled with supplies for the Chernobyl Children's Project. She devoted much of her life to this cause, was a trustee and an indomitable campaigner. She helped set up children's homes in Belarus, and her love for the children shone through always. Latterly, whenever Brian and I visited, we'd have a song together which would lift her spirits, and ours!
Glenise Scott
Those who knew Glenise will be very sad that she is no longer with us. She was a regular at music events ion the Club and often entertained members with her songs and poetry, typically with a humorous theme, as well as the antics of her orang utang. She was an active member of the Milltown Cloggies who laid on a memorable celebration of her life in July.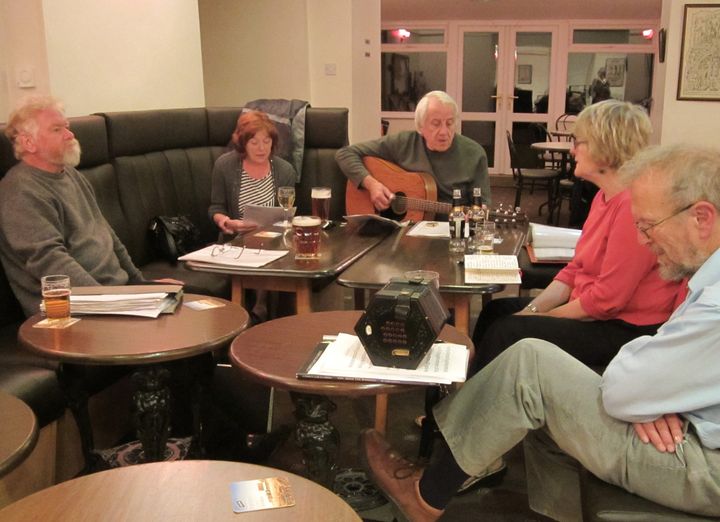 We are very saddened to have to report the death of Club member Robin Clayton.
The Tuesday night folk club which Robin presided over (except during lockdown) has been a popular activity in the Club for the last fifteen years.
Robin and his friend Eric Jackson ran the folk club for many years in a number of pubs in Tameside where they used to have regular guest artists as well as singers' nights. Eventually, in 2008, by which time Robin was running the club alone, the folk club once again became homeless and at this point moved to Glossop, to the upstairs room in the Labour Club. When the downstairs refurbishment was completed the folk club came downstairs to the front bar area where it has been ever since.
Under Robin's leadership the folk club was noted not only for an enjoyable musical experience but also for its inclusivity and the friendly encouragement he gave everyone who turned up whether they were experienced musicians or novices.
He will be greatly missed both for his skill in leading the folk club and also for his music. A song book comprising some of the songs Robin regularly performed is being compiled and there will be a celebration of his life in due course.
For some recollections of Robin's folk club and its history, by Bob Wood, click the link below