Glossop Labour Club
glossoplabourclub.org.uk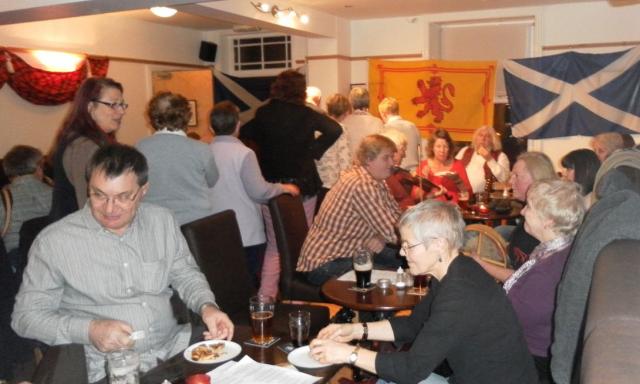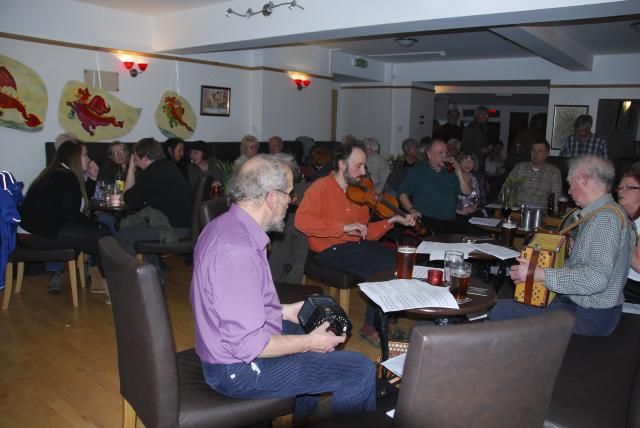 MUSIC
Tuesday nights: Glossop Folk Club. A singaround, with a wide variety of folk-type songs, traditional or modern. Also instrumentals or other things – poems, monologues, whatever you want to contribute. A good opportunity to try out your songs (or whatever) in a friendly and informal group. Or just come and listen – no pressure to perform if you don't want to. Starts about 8 pm. No charge. Contact Robin (01457 861606 robclay41@talktalk.net) for information.

Friday nights:
Music session. Mostly instrumental (but singers are not barred). Come and join in, whatever your instrument. Mainly folk-type stuff (all acoustic), but anything goes – but be prepared for others to try joining in on your contribution. Starts about 9 pm. No charge for admission.
A selection of 100 tunes (in 3 volumes) that are frequently played at the music sessions at Glossop Labour Club can be downloaded from the Music page.

For the benefit of anyone who may be new to these, or indeed any, sessions, if you know any of these tunes we'll be happy to join in. Of course you can suggest other tunes – we play lots of others as well, and we're happy to try to join in new ones. One big advantage of suggesting a tune is that if you start it, we'll play it at your speed! Very informal and friendly, so an ideal occasion if you are a beginner or are not used to performing together with others.

4th Sundays. Music session. Similar to the Friday night sessions, (but generally more varied - songs, poetry, whatever). Starts about 8 pm. Contact Michelle Holding (mlholding82@hotmail.com) for information.

Note that it is the 4th Sunday, not the last Sunday! The same thing in most months, but not always*. See the Special Events page for the date of the next session.
*To confuse the issue, the August session will be on Aug 29th (which is the 5th Sunday).

Themed Nights. In some months, we have an extra themed session on a Saturday. These usually have appropriate food, and other relevant activities, and are very popular. No charge for admission, but we ask for a contribution to the cost of the food. These themed nights usually start at 8.00 rather than 8.30. See the Special Events page for information about these themed sessions, when they happen.


Folk train

We are visited each month by the Glossop Folk Train. This leaves Manchester Piccadilly at 18.59, with a group of musicians playing on the train. When they get to Glossop, they come to the Club for liquid refreshment and more music before returning to Manchester on the 21.48 train. The Folk Train is unlikely to re-start before Jan 2022.
See the Special Events page for information on the next Folk Train.

For further information on the Glossop Folk Trains, visit the Friends of Glossop Station site.
OTHER ACTIVITIES
Some of these are currently running, either for real or via Zoom. Contact the organiser for details.

Red Ramblers. An informal walking group, usually 8-9 miles. Meet at the Club at 9.30 for car share  or take public transport to the start. All welcome.

Contact Jan at janglossop@gmail.com for more information about the walks. We are a group of friends walking together and are each responsible for our own personal safety. 
Five-mile walks. Looking for walks that are not too long, but with a bit of challenge?
Contact Anne (01457 861398) for more information

Reading group 1st Thursday in each month (except January and July). Contact Angela Grills angela.c.grills@gmail.com for information
Record club. 2nd Thursday in each month, at 7.45. No record club in August. Come and listen to different genres of music on vinyl, and discuss them. You'll find a lot more about the record club on their website .

Stitch Sisters - knitting, sewing and crafts. 3rd Thursday in each month, at 8.30. Contact Anne (01457 861398) for information, or just turn up with your knitting or sewing.
Women's Group.  Open to all women.  Phone Anne on 01457 861398 for more details.
Red Film Club. Monthly film showings, usually on the first Sunday, starting at 7.30 (bar open from 7 pm). Mostly films of social/political interest. See the Special Events page for details of the next film and future programme.

Enquiries to angela.glossopdale@gmail.com

Probably re-starting in September.

OTHER GROUPS

People's Kitchen is a delicious, locally sourced evening meal, cooked and served by volunteers. Meals are vegan to make them as sustainable and accessible to as many people as possible. All welcome including kids, please note booking is recommended.
For details of dates and other information, visit their Facebook.com/peopleskitchenglossop">Facebook page.
Contact:peopleskitchenglossop@gmail.com or text 0782 861 7933 to book

Chess Club. Alternate Wednesdays, 1.30 - 3.30 pm. All abilities welcomed. Contact Ian on 07984 813373 for details
Bereavement and Loss Support Group. For people with bereavement issues. Safe, confidential, friendly and welcoming. For more information, contact Liz on 01663 736426 or Debbie on 01457 852059
Glossop Gamers is a well-established group that meets at Glossop Labour Club on the 1st, 3rd and 5th Saturdays of each month between 12 – 5pm. Always keen to welcome all newcomers, they have recently recruited a number of new members. With a regular turnout of up to twenty gamers playing a range of board games and table top games such as 40K and Maifaux, this friendly group is open to all.
Clog Dancing. A fun way to keep fit, and socialise, while participating in a local tradition. No experience necessary - just bring flat shoes. Clogs available to try. Five week sessions on Wednesdays (6.30-7.30) and occasional Sunday afternoons.
Contact Grace Smith by email: gracesmithmusic10@gmail.com

or ring 07450 986029

Martial Arts: Internalgate Martial Arts is a philosophical and holistic approach to personal growth through Self-Defence (Preservation); promoting self-confidence, self-awareness; meditation, release stress; improving health, mental well-being, fitness and balance. Classes are relaxed and informal. See their Facebook page.

Classes (£2.50) are held every Sunday, 14.00 - 16.00. For further information, contact Ade Finch on 07769 942 088, e-mail aidy-san@hotmail.com

The Club has been closed due to the COVID-19 epidemic, but activities are gradually re-starting.